From the time I entered the business world in the early 1970s, I honestly believed that the USA was running out of oil and natural gas resources.
Heck, I got clobbered in the fall of 1973 when I couldn't even buy gasoline to fuel my pickup truck…so that I could deliver magazines on my large route from Gary, Indiana to Rockford, Illinois (with hundreds of stops along the way.). Next time you see me, ask me about how I got around waiting in line to buy gas.
So, when I heard the O&G industry was reviving in the Marcellus (and other basins) a decade ago, I was shocked….to say the least.
Over the last ten years, the advances in oil and natural gas exploration and production are beyond amazing. Shoot, I just heard of 4-mile-long laterals recently completed. Unbelievable.
But all this success comes a price. As my grandma used to say, "If you want to have a picnic, you're going to attract a lot of ants and flies."
Consider some of the outcomes of the industry's successes:
We've attracted ungodly amounts of capital (some would say it includes a bunch of "stupid money").
Prices dropped dramatically as competitors cut one another's throats
Supply outstripped demand.
Takeaway hasn't caught up.
Investors want returns.
But, the industry as a whole is still cash-flow negative. The "Wall Street Journal" recently reported that only five of the top 20 O&G companies in the US reported positive cash flow in the first quarter of 2018. As a result of 75% of the companies suffering negative cash flow, you are being forced to do "MORE with less." Sound familiar?
Slip-Slidin' Away
For O&G, slip and fall incidents can be costly. It's been reported that slips and falls are always in the top five most common accidents. And they cost the industry billions of dollars per year. The average incident costs a company more than $25,000 and 30+ days of lost time. Not to mention the potential of a TV injury lawyer getting involved.
Now, here's the kicker. Damp & wet walking and working surfaces account for 55% of all incidents.
Think about it….what surfaces in our industry are NOT wet at some point of the day. Whether it's frac grease, hydraulic oil, rain, dew, snow, ice, diesel fuel or motor oil, you can't swing a dead cat without stepping on a potentially slippery step, frame rail, platform or bumper. As the old 'Total Cereal(R)' ad asked, "What's a mother to do?"
To top it off, OSHA's Walking/Working Surface rule is all over this like ugly on an ape. In their rule 1910.22, these surfaces must be "maintained in a clean and…dry condition." And if they can't be kept dry, OSHA expects you to provide coverings for surfaces "such as false floors, platforms, and mats."
An ounce of prevention
One of the ways O&G safety professionals can save money is by preventing incidents from happening in the first place.
Here's a simple checklist to help you get ahead of the curve:
Pull together your lagging-indicator logs. Where have your OSHA-recordable slips happened? Look for a pattern.
Dig into leading Indicators. We call it, "follow the footprints."

Go to the well pad for a day.
Shadow the crew at their various job functions.
Where do they walk or step up and down?
What surfaces appear to be consistently wet or slimy?
Which walking/working surfaces exhibit "wear patterns" and footprints.

Match up your leading and lagging indicators and prioritize the most likely places to help prevent future slips and falls.
Eliminate sources of leaks, drips and spills that splatter on walking/working surfaces. In many cases, properly-engineered spill control devices and materials can eliminate up to 80% of the slippery stuff from spreading.
Where you can't eliminate spills (or prevent rain, dew or snow), provide engineering controls for a safer walking surface. Mount sturdy anti-skid plates or anti-slip mats to grab hold of the soles of workers' boots to give them a stable grip.
Create administrative controls with Conduct regular worker training on the slipping hazards. Also, install easily visible OSHA- & ANSI-compliant slip/fall caution signs & decals to remind workers of the potential danger.
As a final measure, be sure workers wear work boots with slip-resistant soles.
The O&G industry will continue to demand more production. In response, safety managers can help prevent slip and fall incidents while saving money with proven, proactive measures.
Case Study 1
Problem - Frac Pump splatters grease on walking surfaces like frame rails and lube tanks causing frequent slips and falls.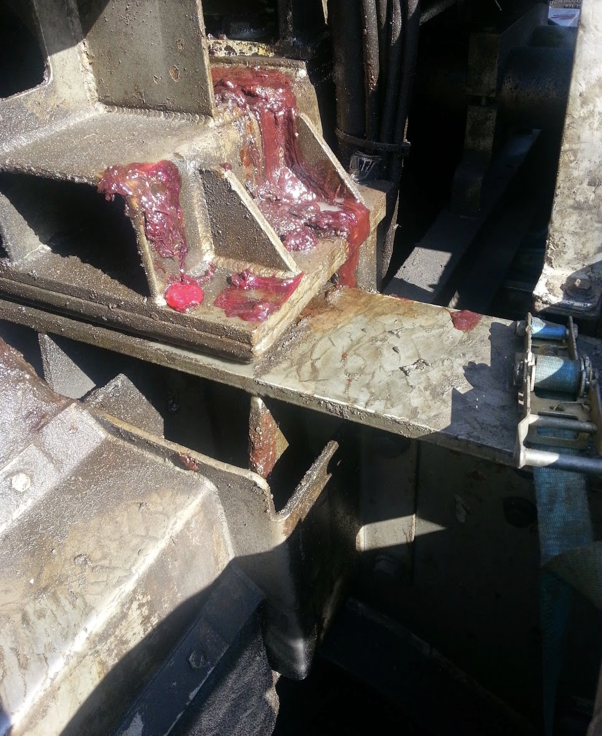 PHOTOS ABOVE & BELOW: Frac grease creates slippery walking surfaces on fender steps, frame tails and lube tanks (note boot imprints in frac grease)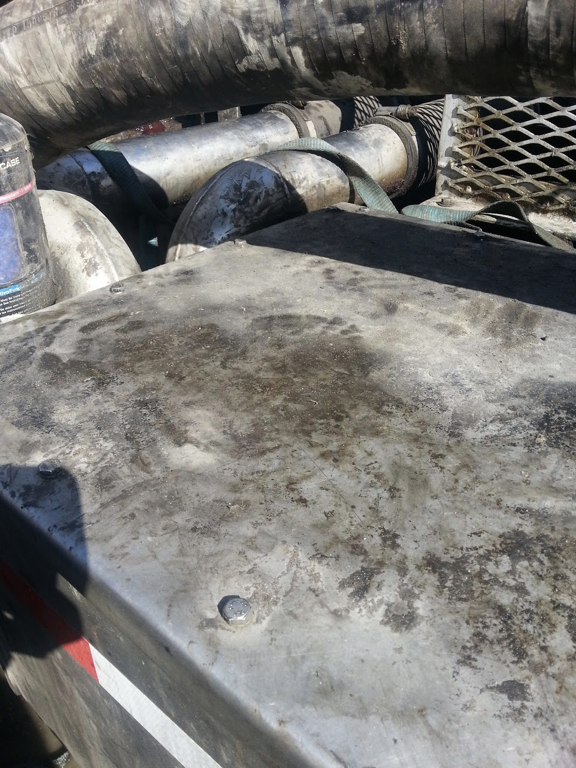 Solutions
Eliminate 80% of the grease splatter with well-designed splash guards, covers and specialty absorbents
Install GritGrab anti-skid plate on walking and working surfaces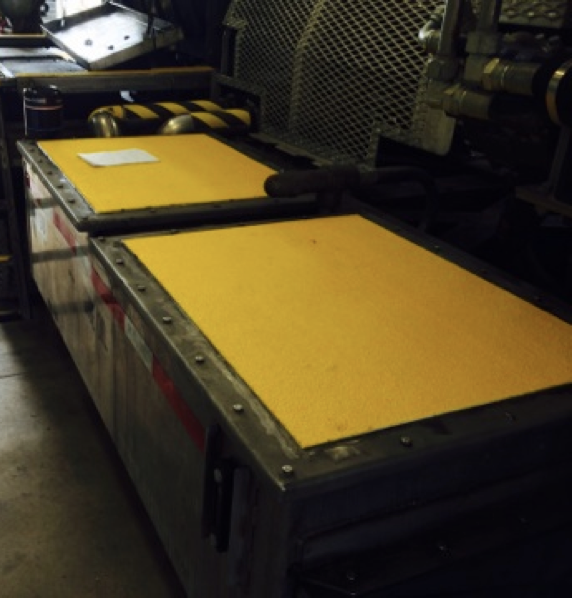 AFTER – As seen in the photos above and below, 80% of grease splatter has been eliminated and GritGrab anti-skid plate installed on walking and working surfaces to prevent slipping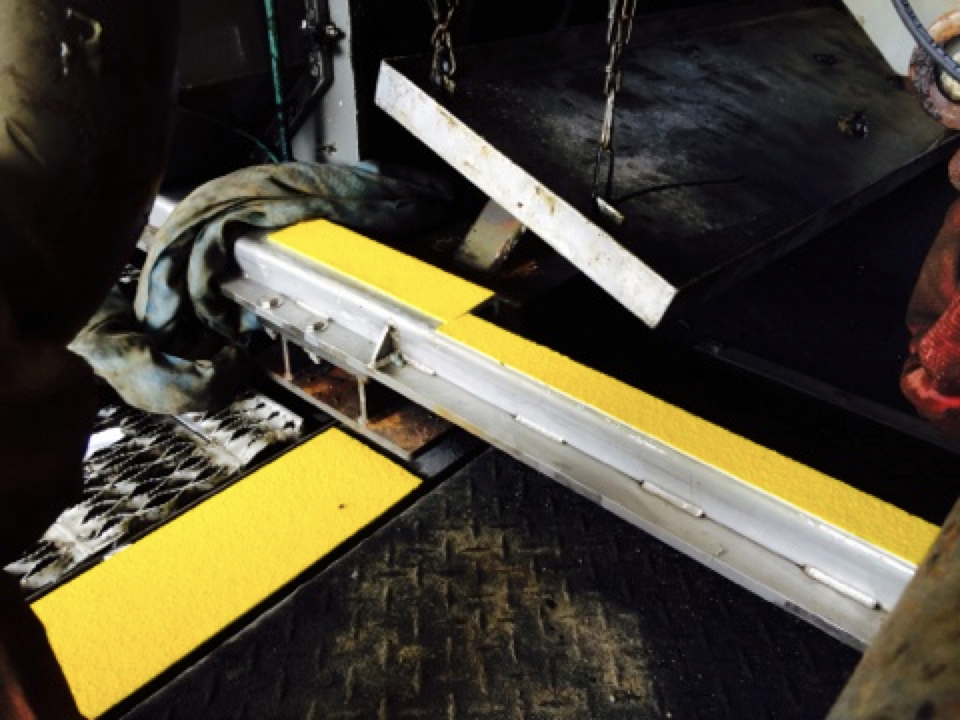 RESULTS - After three years in service, customer reports that slip and fall incidents on frac pumps have been virtually eliminated.
Case Study 2
Problem – Frequent truck driver slip and fall incidents on slick steps leading to and from cab. Most cab steps are made from expanded metal that have some gripping features under dry conditions. However, diesel fuel can get splattered and precipitation makes the steps very slippery.
Solution – Identify the foot-traffic "wear-pattern" on the steps (HINT: the nose of the steps show wear on the main foot pathway.) Install anti-slip plates or bullnose covers on the walking path to provide sure footing.
In the photo below, note the diesel fuel "slobber" on steps of cab, creating slippery conditions. GritGrab anti-slip plate was installed on about 18 inches of each step where the driver always places his feet when climbing in and out.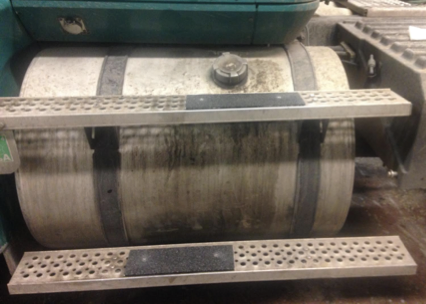 Hi-Viz GritGrab anti-slip bullnose plate on truck cab steps (below) provide sure footing and dramatically reduces driver slips & falls.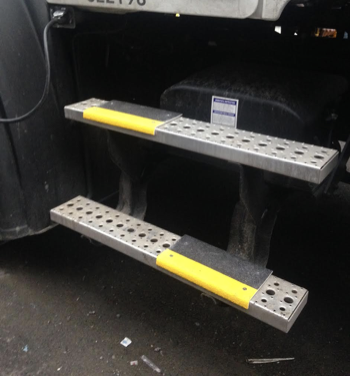 Article written by Donny Beaver, CEO of HalenHardy. For the past 4 decades, he has been on the cutting edge of developing products and services to tackle some of the crappiest jobs in the industrial world. From asbestos removal in the 1970s to creating the world's first absorbent sock, his focus has been to create clean, safe and productive work places.
(c) HalenHardy 2018
Topics: slip prtevention, +GritGrab, fall prevention
Leave a Comment: