HalenHardy® delivers fast and effective spill control solutions.
We address the problems that others ignore. How? We're just wired that way. We have this tendency to walk into a room and spot what's broken. If we can't come up with a solution immediately, we rack our brains until we do. Some may call it obsession. We call it passion.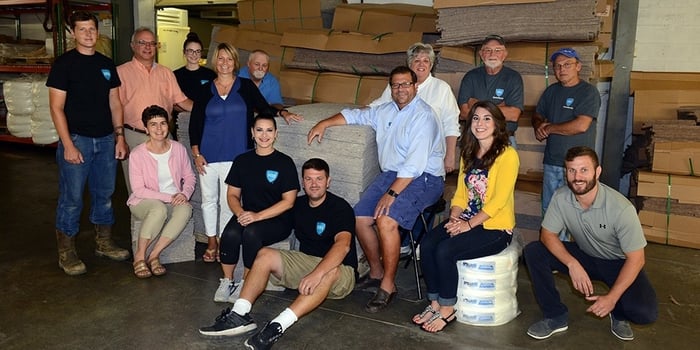 We've been able to develop products that meet the demands of our customers, because we listen. We ask our customers to tell us their crappiest, dirtiest and most awful cleanup job. And then we figure out a better solution.
HalenHardy®'s foundation is family. It's that foundation that guides our focus. It's about more than a product. It's about providing you with solutions designed to make your work safer and more rewarding.
Why should the way we treat customers be any different than the way we treat our family? Who can put people in boxes like that? We believe in helping people and doing what's right. That shouldn't stop when you clock in for the day.
We want to share our recent breakthroughs in spill control—and the stories of the people who made it happen.
What does the HalenHardy® name mean?
To HalenHardy®'s co-founder Donny, there's significant meaning behind the name. Donny recalls the impact that his father and grandfathers had on his life. Together, they gave a young, mischievous boy a love of hard work and the great outdoors.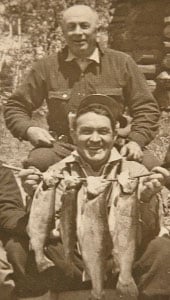 The HalenHardy Legacy: Donny's grandfather, Pappy Tom
Donny's Pappy Tom lived two blocks from Donny. His house was on the route to school. So, Donny would spend many hours there every day after school and during the summer. Pappy Tom was a character. Born in 1894, he worked most of his life as a railroader. During those difficult times, Tom had little time to spend with his young family. The time spent with Donny was his way of having another chance to do what he always wanted to do with his own children.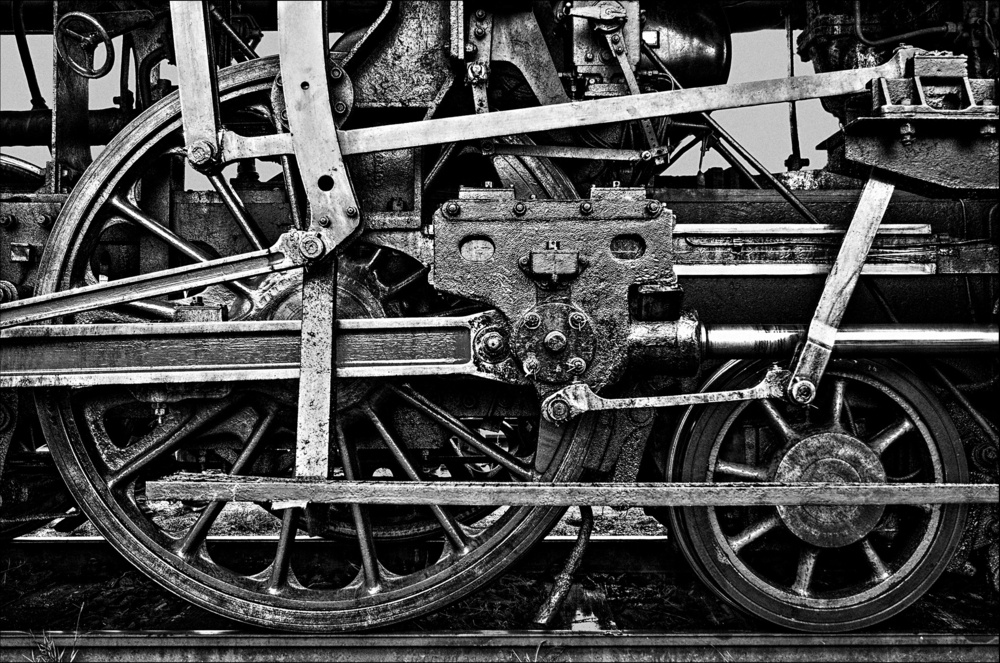 Image: Shutterstock
He'd often reminisce of his days on the railroad and in the trenches of WWI. And he would tell stories of the challenges he faced during the depression. Although he had limited formal education, he was a well-read man. He devoured everything from Tennyson to Longfellow. A bit of a Renaissance man, Pappy Tom inspired Donny with his stories and his strength.
Pappy Tom had a favorite saying that he would use to refer to one of the local boys on the high school's football team. The boy could take a hit and jump right back to his feet, ready for more.
"That's a hale and hardy boy!" Pappy would say.
Hale meaning cheerful and useful. Hardy meaning robust and tenacious.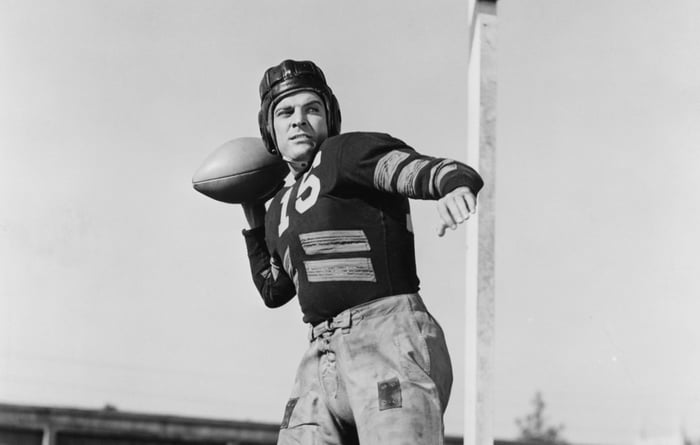 Image: Shutterstock
Donny would often help Pappy Tom and Grandma with chores. He would spend hours cleaning the ceramic studio, mowing the grass or working in the garden. When those last three rows of onions remained, Donny would grow tired. Pappy Tom would use that saying to encourage Donny to keep going until he finished the job.
As Donny grew older, he would come to appreciate the meaning behind the words. He worked to apply the meaning to his own life. Long after his grandfather passed, Donny found inspiration in the memory of his "hale and hardy" instructions.
The HalenHardy Co-founders: Donny, Josh, and Troy
Donny later teamed up with his sons Josh and Troy. They worked to create a company dedicated to improving environmental, health and safety practices. And, the name HalenHardy® came full circle.
Who are the people behind HalenHardy®?
HalenHardy® isn't a faceless entity. We're real people with real personalities. We have real quirks, diverse experiences and unique talents. Our job is to provide you with the best possible service and the best possible product. And, we appreciate the value of building lasting relationships with our customers.
How do we do that? By getting to know you and listening to your needs.
We'd like you to get to know who we are. We want to introduce you to a few members of the HalenHardy® team. Some of us share a bloodline, but we have all become family over the years.
Donny Beaver, Co-Founder and Chief Executive Officer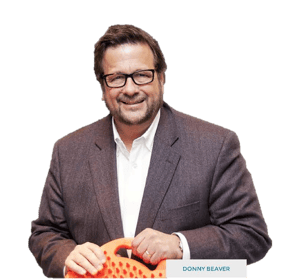 Donny is often described by his colleagues as a "serial entrepreneur". He started his first business while he was still in grade school. He would serve two older discriminating sisters who lived in his hometown. Every day, he would tend to their chores, from mowing to washing cars and shoveling snow. Whatever the job, he would custom-tailor the work to his customers.
Over time, he earned an honest and hard-working reputation. The sisters then recommended him to all their friends in church and their bridge club. By the time he graduated college, he employed 100 people in his company, Beaver's Professional Services. He then expanded his business to custom industrial cleaning.
As Donny grew older, he became a leading distributor for ServiceMaster. He expanded his enterprise to include heavy-duty industrial and hazardous dust cleanup. 1985, he spearheaded the invention of the original patented Pig® brand absorbent sock and became Chairman & CEO of New Pig Corporation®. During that time, his two sons, Josh & Troy, were born.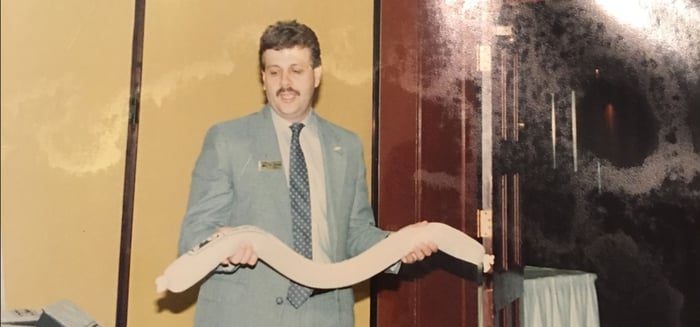 Donny with the original award-winning absorbent sock
And, in 2013 Donny joined them as partners in HalenHardy®. Since then, HalenHardy® has received many awards for entrepreneurship and enterprise.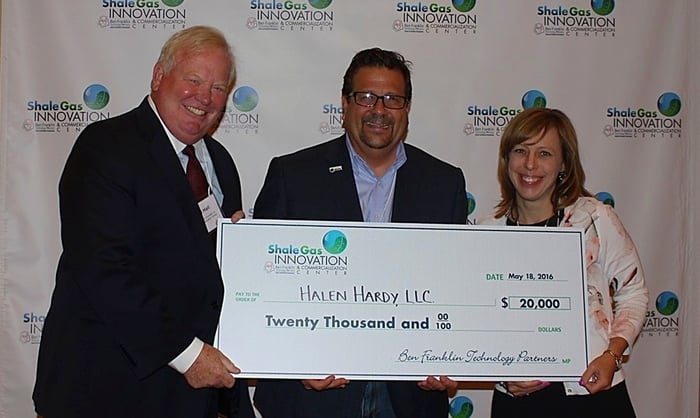 Donny accepting the award for Spilltration® Products, Winner of the Shale Gas Innovation Contest, 2016
Donny has always had a certain savvy when it came to business. That business mind existed from the time he was an enterprising young boy. And it remains in the innovative man that he is today. He admires the ability to put in a hard day's work combined with strong business acumen. These character traits Donny not only admires in others, but possesses himself. And, he firmly believes in a "have it your way" attitude. You just have to spend some sleepless nights to get there.
Josh Beaver, Partner and CPO*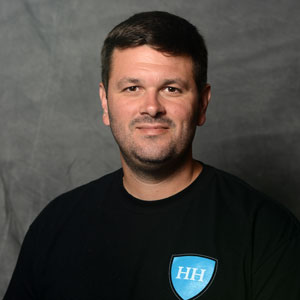 Josh worked with his brother and father since the boys were knee-high to a grasshopper. The years he spent doing chores as a child led to developing and manufacturing products. Josh has spent his entire career working alongside the family in various business ventures. He's swept parking lots and built complex pieces of machinery. That knowledge allows Josh to tap into the inner workings of the company from the ground up.
His wide and varied experience includes:
Heavy equipment
Carpentry
Grounds maintenance
Guided deer hunts
Running the trout farm
Operating a signage shop for the oil and gas industry with Troy
Josh is a graduate cum laude of The School of Life and his experiences have given him insight into the real world problems that exist on a jobsite.
Troy Beaver, Partner and Director of Business Development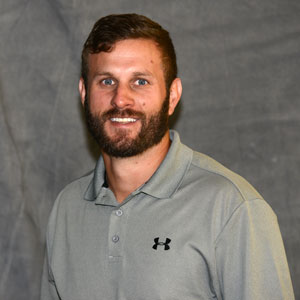 Donny's son Troy was also raised to be a problem solver. He and older brother Josh worked doing chores from the time they were 5 years old. They learned the value of hard work. They did everything from sweeping floors, stuffing envelopes, erecting buildings or working production.
As Troy reached his adult years, he spent over five years developing businesses within the oil and gas industry. In the last four years, Troy has been active in various environmental and safety associations such as the Marcellus Shale Coalition (MSC), Spill Control Association of America and the Voluntary Protection Program Participants' Association.
Troy graduated in 2006 from Juniata College with a Bachelor's degree in politics. He went on to get his Juris Doctor (JD) and MBA from University of Pittsburgh Law School and Katz Graduate School of Business. Troy uses his education and experience to build new relationships and nurture existing ones. His knowledge is instrumental in developing effective sales and marketing strategies.
Love conquers all, even when it comes to spill control
We are fortunate to have many dedicated family and friends within our company, from our accounting office to the warehouse. We couldn't do it without our incredible team of people that share the same passion and the same drive.
Every family business has its share of friction from time to time. Aside from the generational dynamics, we all have strong views and opinions. It's that passion that drives innovation.
"It's like throwing a little jalapeno into a recipe," Donny often says.
Everyone has their own spice and their own way of looking at things. So, when we put their heads together, ideas and solutions evolve. Sometimes we don't agree. But, even when there is a disagreement on an idea or concept, a mutual love and respect remains.
"If we all agree," Donny chuckles, "one of us is probably unnecessary."
He's often asked what the motivating factor has been in his career. He says he lends it to his endless curiosity. He's fascinated about why things are done a certain way, especially when they don't seem to be working well. And this curiosity is what led to the breakthrough technology of Spilltration® Products.
Donny always wants to understand the pain points of his customers. So, he often asks about their biggest cleanup problems. The answer was always the same. People accepted that spill control products were inadequate.
They just didn't work.
It is what it is.

White spill pads held down by rocks and soaked with rainwater aren't very effective
Customers tend to have ideas about needing better solutions. The problem? They don't have the time to invest in finding a better solution. Tight deadlines and budgets usually win top priority. No one thinks there can be a better way.
Henry Ford said, "If I had asked people what they wanted, they would have said faster horses".
Until Ford came along, the idea that the average person could own an automobile was ludicrous. No one imagined better performing sorbents, either.
Donny often ran into customers in the oil and gas industry and electric utilities who had the same complaints. The old-fashioned white spill pads didn't work in wet conditions. The persistent and recurring issues of ineffective sorbents halted production. They also increased labor and material costs, harmed the environment and were a serious health hazard.
So what led to the invention of Spilltration?
In the past, most companies focused on creating oil spill control products that worked on the factory floor. They couldn't stand up to the great outdoors.
What is the major difference between these two environments?
Indoor facilities have their share of messes, but they are controlled environments. The roof overhead ensures that rain and wet conditions don't worsen an already dirty mess.
During one of Donny's routine audits of an oil and gas client, he noted the distinctions that were glaringly obvious. Oil drilling is a job that doesn't stop. It's dangerous and it's dirty. The billions of gallons of water used for lubricating the drill make for an oily and wet mess. Their existing products weren't working.
How did the HalenHardy® team discover the problem?
The HalenHardy® team uncovered something during a customer audit. When they looked in the dumpster, they found traditional white spill pads and socks that were only 30% saturated with oil. The company was spending 70% more on spill control products than expected!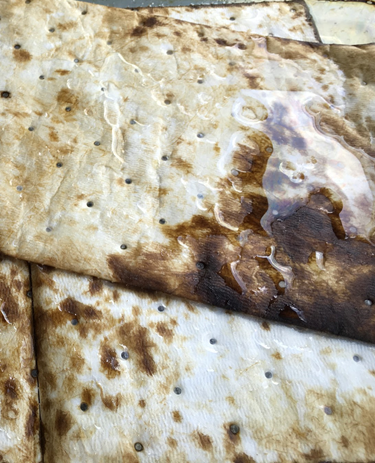 Wasted traditional white spill pads
Why?
Because the old fashioned spill products were not designed to work in wet outdoor conditions. Talk about waste.
We all know that when the economy is strong, there is a tendency to overlook some of those nuisances. Yet, when there is any form of economic downturn, these nuisances become a major concern. There had to be another way. And HalenHardy® was determined to find it.
Donny put a team of people together. The goal? To find a better solution and change the way things had been done for decades.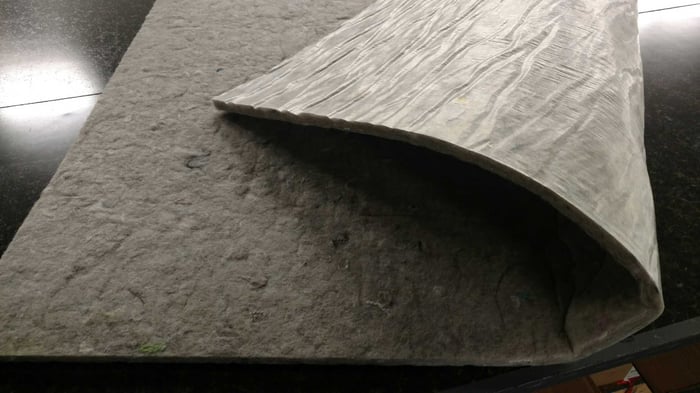 Spilltration® Husky material on a PolyBack rug
After hundreds of phone calls and brainstorming sessions, the team found what they needed! They discovered a fiber that not only could trap and lock oil, but could filter clean and clear water too. And as a bonus—they discovered a material that was heading toward the landfill. They intercepted the fibers before the landfill and converted them into the Spilltration® Husky product line. Couple that discovery with the oil company's willingness to take a chance on a brand new spill containment product—oil and fuel cleanup was changed forever.
Why did it take this long to challenge the current spill control products and find better solutions?
Until a problem is glaring someone directly in the face, it usually remains on the back burner. Innovation is messy, risky and unpredictable. You can't account for innovation on a spreadsheet or plan it out on a schedule. Predictability does not breed innovation. Many companies wait for someone else to take the risk, to find a better solution.
"Sometimes, you need to take off your own shoes and step into someone else's," Donny often says.
HalenHardy® lives the philosophy that says if you want to understand a person, you have to walk in their shoes. It's the only way to solve problems. You have to get your hands dirty and experience what your customers experience firsthand. It's the tradition of hard work that has been passed on through generations. It's the hale and hardy way.
We're often asked what the biggest challenge was when introducing the Spilltration Product line to new customers. The answer lies in the innovation adoption cycle. There is an inherent fear of the unknown that exists both in people and in companies.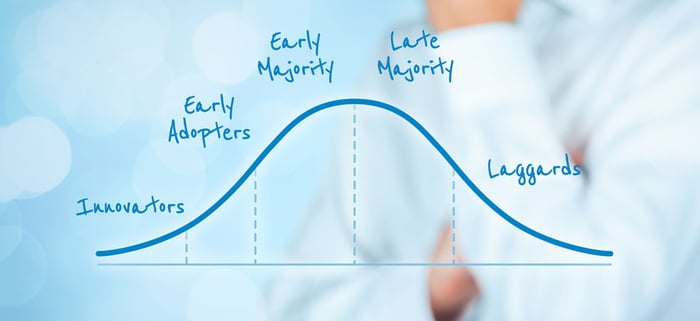 Illustration of the Innovation Adoption Cycle. Image: Shutterstock.
The biggest indicator of success in the Spilltration system is the willingness of other innovators to see the value and take the risk on something new. Change can be unnerving. It's easy to keep doing what you're doing, if you don't realize there is a better way. Not only does a person need to acknowledge there is a problem, they need to be willing to try the solution.
Most companies like to say they're innovators. But, only about 2.5% are actually willing to take a chance at testing out a new technology. The remaining 97.5% wait until someone else takes the plunge and then they test out the water. One toe at a time.
Treat others as you wish to be treated
People matter. Our job is to help them identify the roadblocks that are causing them stress. Then we work side-by-side with them to find a solution. Help people do their jobs more safely and efficiently. Happy customers return. Happy customers share their experiences with others.
"Make people deliriously happy with the end result," Donny says, "If I haven't done that, then it's time to figure out where I went wrong."
To us, it's a matter of pride. We want to be the best and you don't do that by taking shortcuts. Maybe it's because this is a family business, we hold each other accountable. And we encourage each other to think outside the box.
We live by the phrase… Fail. Forward. Fast.
What does that mean? The only way to improve is to take risks and sometimes those risks don't end up the way we want.
We're a jazz band, not an orchestra.
We take chances. Sometimes they pay off and sometimes they don't. That's when you admit you're wrong. But, you always keep moving forward. Onward and upward.
At HalenHardy™, we have a passion for helping people. It's simple. Give us your crappiest job and we'll find a way to make it easier and safer for you.
How do we do it? For starters, we don't measure ourselves against our competitors. We define success by our ability to build relationships and meet our customers' changing needs. We do this with the help of a few guiding principles:
Treat others well,
Build sustainable products,
Provide superhuman service
Continuously strive to be better.
We do the work that no one else wants to do. And our customers tell us we do it pretty darn well.
Click below for a special offer on Spilltration® products. Give it a try!
If you would like more information on Spilltration® Products or would like to know more about the people at HalenHardy®, contact us directly or leave a comment below!
Topics: Insider
Leave a Comment: