I'm a Navy Seabee. And, 20+ year spill response veteran. Seems like I'm always tackling crappy jobs in the field.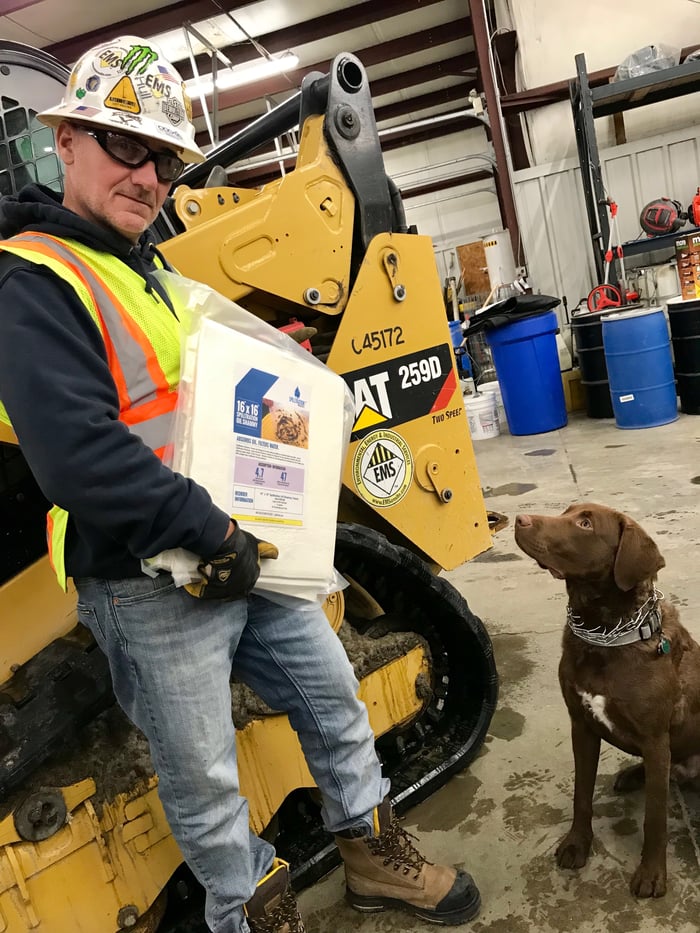 Here I am with my SmooshKit & sidekick, Cooper
When it comes to oil and fuel spills there is one priority. Contain the spill in the critical moments after it happens.
But, that's a tough job. Our customers have limited space on their vehicles. And traditional spill cleanup materials are bulky.
By the time we arrive on many spill scenes, the spill has spread. This increases costs of cleanup and potential environmental impact. Not good for the client.
So, I was excited when Troy Beaver of HalenHardy® approached me with a solution to save my customers money. He asked me to field test their new compact Spilltration® oil spill control materials.
A living laboratory, Spilltration Husky rugs save the day
In short order, Troy and I hand a chance to try Spilltration products. We were called out on a rainy night to clean up more than 50 gallons of transformer oil.
By the time we arrived, the oil had already reached a storm drain. It was heading toward a retention pond. We immediately went to the outfall and stuffed it full of Spilltration Husky material. We also lined the ditch with Husky rugs.
Thanks goodness, we were able to prevent the oil from reaching the community pond. This saved our client tens-of-thousands of dollars in cleanup costs.
Our customer was impressed with the fact that the Spilltration Husky materials were compressed into compact kits. They take up 1/4th the space of the traditional spill materials. He asked if we could give him some samples to try in his vehicle.
We said "Hale Yes". It only took a few spills for him to become a believer, too.
The birth of Smoosh
Troy and I showed Spilltration kits to dozens of clients and they kept asking, "what do you call those compact kits?" But, we didn't have a name for them.
One night Troy, his dad, Donny and I decided to try to come up with a name. Halfway through a bottle of Pappy Van Winkle's® bourbon, someone said, "It's pretty simple we just smoosh them into small packages, suck the air out and vacuum seal them."
The 'Smoosh' name stuck.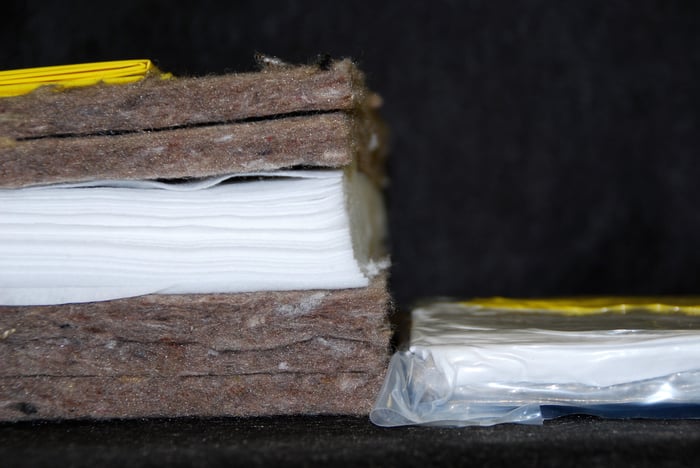 Spilltration products before "smooshing" (left) and after getting smooshed. You can pack 4x to 5x more spill control power into super-tight spaces
There's really no comparison
SmooshKits are unlike any other oil spill kits in the world. Just take a look at the photo below of three different 5-gallon spill kits on the next page. The SmooshKit™ is the one in the middle. It practically takes up no space at all.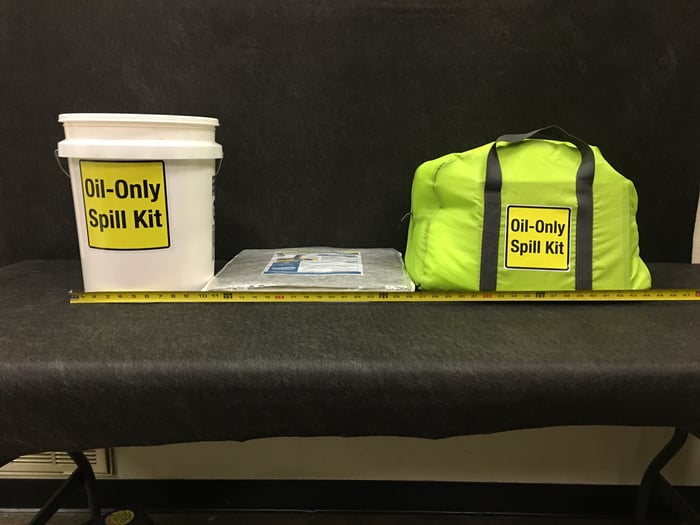 The 5-gallon Smooshkit brand oil spill cleanup pack (center) is up to 500% more compact than traditional 5-gallon spill buckets or duffels.
Over the past year, I have deployed Spilltration SmooshKits in countless incidents. With the limited space I have on our trucks and trailers, Smooshkits fit in the tightest spots. This allows us to carry plenty of supplies to clean up oil and fuel spills everywhere we respond.
SmooshKits help us save our customers time & money.
Topics: "spill kits for trucks", Spill Response, Spill Cleanup, "SmooshKit"
Leave a Comment: