An industry was on the brink of collapse.
It was a bitter cold February morning in 2015. Oil and natural gas prices were dropping and projected to fall to record lows. Industry veterans were in panic-mode. Several of our best customers were telling us to brace for the worst.
In the back of my mind I'm thinking this is a great opportunity for us. I had been through several major downturns since starting my first business in the early 1970s. One key to success had emerged.
I had learned that EVERY business began to look for ways to save money when the economy plunged. Not a big surprise, you say. And you are right.
An opportunity for discovery was looming.
But, therein lies the opportunity.
If we could find ways to help customers save money as hard times unfolded, we could save our relationships with existing clients
. More
importantly
, we could introduce our savings strategies to new prospective customers. As a result, we could win their business, too.
Over and over again, we undertook quests to become more efficient on behalf of the customer. The efforts to serve our customers guided us to new ways of doing business. At the end of the day, these adaptations actually increased our gross margins.
The net effect…..we always grew and profited during a downturn.
Dumpster diving taught us a lot along the way.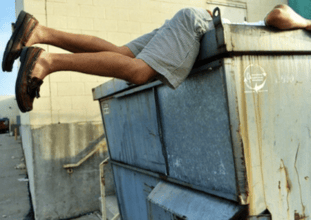 "Wait!" You are probably thinking, "Did he really just say dumpster diving?" Believe it or not I stand by that statement. Dumpster diving is not only a very humbling experience. It is also a learning experience.
Oil and natural gas prices continued to fall. We wanted to do anything we could to help our faithful customers during this time.
For our oil and natural gas customers, the answer was obvious. We needed to help them
minimize
inefficiencies and
eliminate
waste. Garbage cans at job sites were full of expensive, slightly-used items like:
Damp metacarpal gloves that had only

been worn

for a couple hours before tossing

Hundreds of white oil spill cleanup pads and socks that looked

practically

brand new

Barely-worn safety vests and even costly fire-resistant coveralls
So, we asked a key client for permission to perform "dumpster diving" to see if we could save them money. They immediately gave us the green light.

We found all sorts of "low-hanging fruit" in our dumpster diving exercise.
As you can see, we found half-used lubricant spray cans, slightly-dirty gloves, full rolls of duct tape and even unopened cases of bottled water
.
By the time we completed 35 dumpster dives, one group of products jumped to the top of the waste pile….white oil spill pads, pillows, socks and booms
.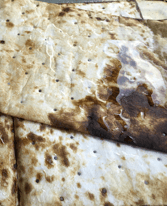 Our customer was tossing thousands of dollars of
practically
new products each month.
Old-fashioned white oil spill materials were only operating at about 29% of their advertised oil cleanup capabilities
. This was due to the wet conditions found on well pads.
Essentially
water forms a barrier on the outer surface of white spill materials.
Consequently
, oil was unable to penetrating into the spill materials.
We put our heads together to come up with specifications of the ideal replacement product. Our ideal product would:
Quickly

absorb hydrocarbons in wet and dry weather.

Allow water to filter through (leaving the oil in the fibers).

Be made from 100% post-consumer waste.

Be squeezable to recover the hydrocarbons and

be reused

at least 10 times.

Be compactable and able to

be stored

in 400% less area on space-constrained well pads.

Reduce disposal waste costs by at least 300%.

Save our customer at least 70% in

overall

cost-to-use.
At the time, it seemed like a tall order, but our crew was up to the task. Within a few short weeks we created our first prototypes. The category was soon dubbed Spilltration

®

products.
We then
successfully
tested the products with several of our key clients in the Marcellus Shale industry
.
Unfortunately, natural gas prices were tumbling to unprecedented low prices. Shortly after we finished our beta testing, the Marcellus Shale drilling activities ended. Our target industry was waning faster than a knife fight in a phone booth.
A rocky transition ensued...
I have to admit, it was tough switching gears in 2015 and 2016.
We had invested countless hours--and more money than I care to confess--cultivating strong relationships in the natural gas industry
. Now, this industry was dead as a doornail. We had to downsize our team and
literally
start from scratch. Ouch.
Many of our industry friends had seen the other busts in the gas patch. They warned us to focus on other industries as
quickly
as we could. So, we asked our colleagues who served the natural gas industry what they planned to do.
Our pals in civil construction were focusing on roads, bridges and pipelines. Our environmental cleanup buddies turned their attention to utilities, refineries and transportation clients. Spilltration®
was developed
for the outdoors. So, we decided to ally with these associates still working in the outdoors.
But we got by with help from our friends.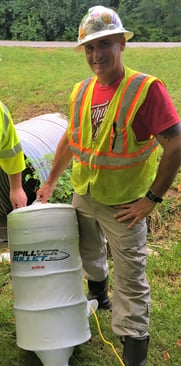 That's when our long-time friend, Tim Acri, from Environmental Management Specialists, came to the rescue
. Tim took my business partner, Troy Beaver, under his wing. Tim invited Troy to bring our Spilltration® materials to a bunch of EMS jobs. They went on joint sales calls together. Then, in late 2015, Tim encouraged us to join the Spill Control Association of America.
Gradually
, we began to uncover situations where Spilltration® products worked better than old-fashioned white oil spill materials
. By the spring of 2016, we had identified a handful of prospective customers. These individuals wanted to do long-term tests on Spilltration® materials.
The goal was to compare Spilltration® with the oil spill products they had been using in the outdoors for decades
.
First, we asked these prospects what they did not like about white oil-spill pads, socks, pillows & booms
. Listed below are their top complaints about the old white spill stuff.
For persistent outdoor oil drips and leaks professionals complained:
When it rained the oil would get "lifted" and runoff to unprotected areas

Dripping oil

quickly

saturated white pads and spread across the ground beneath

White pads had a tendency to blow around

UV sunlight would turn the old white materials to dust in a matter of a few short weeks

White spill products created too much waste

All these problems caused excess labor to

be expended

They

were concerned

when they learned the white materials

were made

mostly

from virgin polymers

Budget pressures were forcing all customers to rethink every process

When the customers complained to their distributors of white stuff, they offered no improvements

In the past, controlling consistent leaks and drips in the outdoors was a nightmare.
For emergency outdoor spills professionals said:
Wet weather rendered old-fashioned white spill materials

nearly

useless in emergency conditions

Oily runoff into storm sewers, streams, ponds and ditches was hard to control

Old white products were bulky and took up precious space on their trucks and equipment

Improvements in spill control deployment speeds were

desperately

needed

Labor costs to clean up were high

White spill materials were not reusable

They

were made

mostly

with unsustainable virgin polymers

There weren't any real oil spill control innovations in years and years

Effective cleanup of emergency spills with out-dated sorbents were nearly impossible in wet conditions.
The light at the end of the tunnel.
The hard times were more difficult than I expected. But, we had an exciting, new direction. We had learned more than ever how to help our customers. We had discovered an amazing new spill control product line.
We were ready to dig in and help tackle the worst spill control problems to protect our great outdoors.
But we don't want you to take our word for it. Here's what our Spilltration
®
customers have been saying.
"As a spill-response professional, I'm always looking for ways to help our customers save time and money. As soon as we saw the SpillBoa barrier in action, we recommended it to all our clients to keep in their vehicles and equipment as a first line of defense. It deploys 40 times faster than traditional products and helps mitigate the impact of oil and fuel spills."

-Tim Acri, COO, Environmental Management Specialists

"Spilltration

®

products are the first true innovation that I have seen in two decades. They source their raw materials in an environmentally sound fashion, they know the holding capacity of their product, and if you use the poly-backed product you directly address the local and federal EPA's primary concern; oil getting into the ground. Nobody else does that."


-Transmission C&M Area Manager, Major Electric Utility

Lewis Environmental crew wipes up an oil sheen from wet pavement using Spilltration

®

Oil Shammies.
"We have the distinct pleasure of working with HalenHardy regularly. Donny and his team are always on the cutting edge of product development in the environmental response industry. We maintain an inventory of Spilltration

®

products in all of our locations. The Husky Rugs and Oil Shammies have proven themselves on countless events. We specifically use Husky Rugs in areas where storm water poses a risk of increasing a spill's foot print. Oil Shammies work great during the final phase of spill clean-up or for the smaller spills where only a sheen is present. I highly recommend utilizing HalenHardy's mitigation products."

-Stephen Pelna, VP of Lewis Environmental

If you think that your spill control products aren't working hard enough for you, we'd be happy to provide you with a free consultation.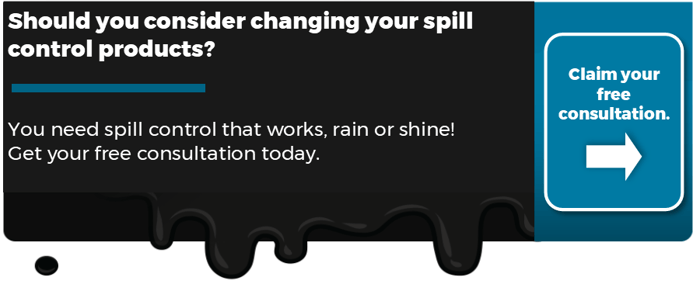 If you would like more information on Spilltration® Products or would like to know more about the people at HalenHardy®, contact us directly or leave a comment below!
Leave a Comment: